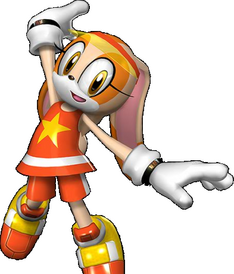 Cream the Rabbit (クリーム・ザ・ラビット, Kurīmu za Rabitto) is a rabbit in the Sonic the Hedgehog universe.
Cream is an adorable creamy colored, 6 year old anthropomorphic rabbit who made her debute in Sonic Advanced 2. Her companion is a blue Chao named Cheese, who wears a red ribbon around his neck.
She is extremely polite & dislikes violence.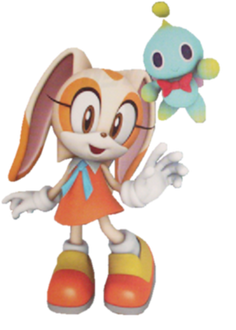 Despite her cute appearance, Cream knows how to protect herself, and she is very loyal to her friends.
Relationships
Friends
Amy Rose
Big the Cat
Sonic the Hedgehog
Miles "Tails" Prower
Knuckles the Echidna
Blaze the Cat
History
Quotes
Artwork
Ad blocker interference detected!
Wikia is a free-to-use site that makes money from advertising. We have a modified experience for viewers using ad blockers

Wikia is not accessible if you've made further modifications. Remove the custom ad blocker rule(s) and the page will load as expected.